When a long-term client approached Craig Easton with a historic but dilapidated tudor-style home on a spectacular site in Toorak, it seemed destined for the wrecking ball. After careful consideration, Craig believed that the home had period elements worth saving, so set about planning a major renovation to repair and restore the exterior and start fresh inside.
Having been appointed as Client Side Project Manager, Craig handpicked a team of professionals that best suited this style of complex and precise workmanship.
Great thought was given to select the best design and consultant team including Town Planners, Engineers, Quantity Surveyors and Site Administrators. Andrew Parr led the interiors on behalf of SJB and Paul Bangay was appointed as Landscape Designer.
SJB were appointed as both architect and interior designer, but the traditional budget split between interiors and architecture was flipped to create a generous 75% budget for interiors with 25% remaining for architecture. Had the home been demolished as was planned, this allowance for extensive interior work to an incredibly high level of detail would not have been possible. It's exactly the kind of valuable experience that Craig is able to bring to a project, assisting clients in the decision making process and having a high-impact on final project outcomes.
Assembling a site team, Craig included some of his most professional and long-standing employees with years of high-end residential construction experience. Branco Radin was responsible for the main residence renovation and restoration, with Craig Irving looking after the new extension including pool, den, garage, and gymnasium and piling works. Wes Scroczynski, an expert joiner, was given the task of finishing contractor working alongside SJB interiors to deliver the precise finishes our clients have come to expect.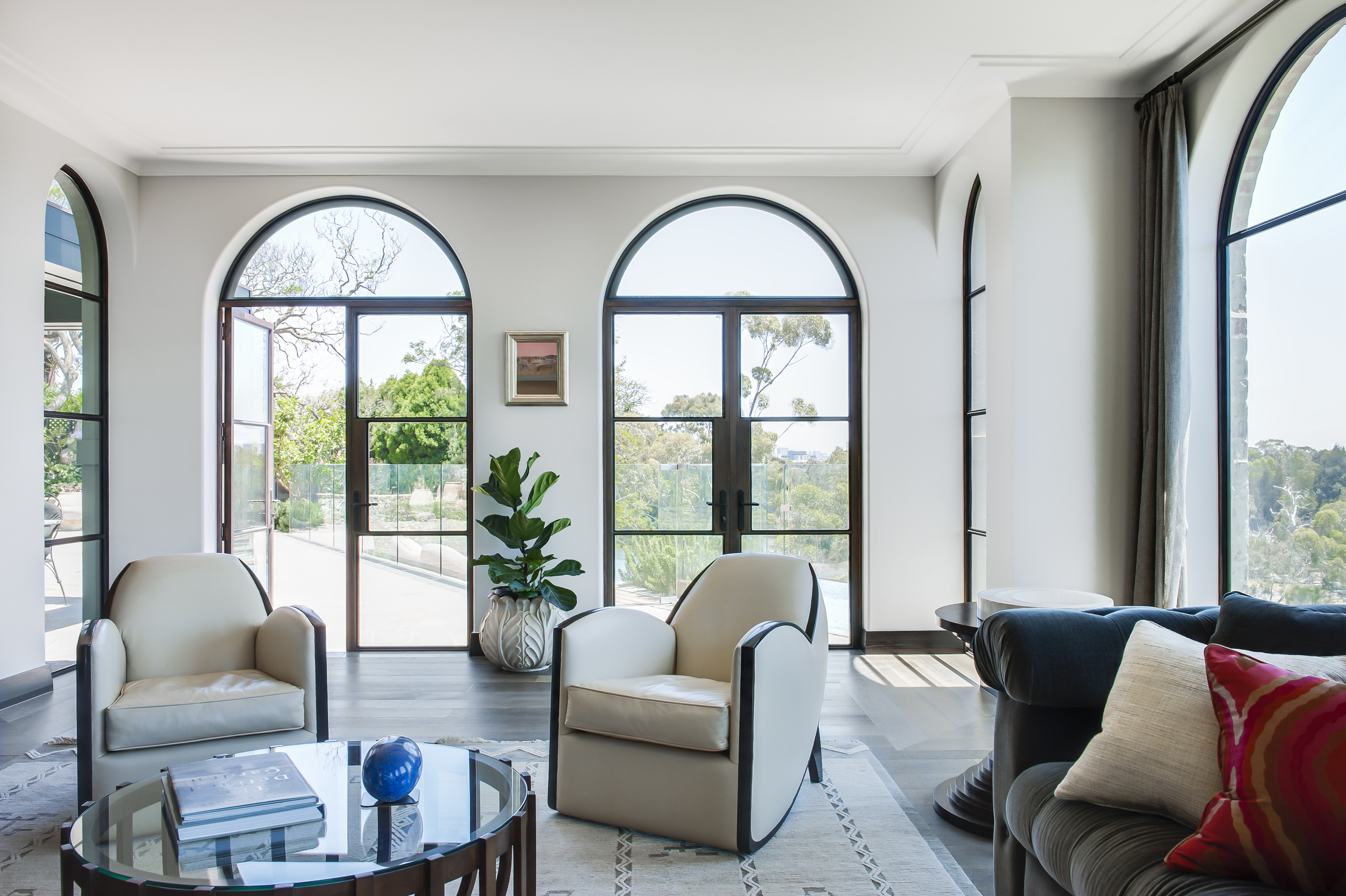 Other valued Easton team members include Greg Tivendale, Benny Emmerton, Jordan and Brodie Easton, Timothy Laidlaw and Harry Maxwell. It was a fantastic team effort and the results are truly spectacular.
Some of the incredible construction features of the project include;
Nearly all existing internal walls were either moved, or removed entirely
Every window was replaced (and in some cases moved) with double-glazed windows including new window lintels
The first floor slab which was in complete disrepair needed to be demolished. This required proping and staged demolition with specialized safety platforms built
The roof of the home (A Spanish terracotta roof tile in fantastic original condition) was kept which made using cranes to lift in materials near impossible. All roof valleys and gutters were replaced with copper
Steel, normally moved in long lengths by crane was instead designed into short lengths and moved using 'duct lifters' and then welded together on site
The existing structural floor beams were adjusted to make the house level - this type of accuracy is imperative to achieve perfect architectural lines when finishing a home
Due to the difficult site position (high up on the bank of the Yarra River) new 18 meter concrete piles were required to secure the residence and in addition the entire home was re-stumped
The home features extensive use of timber (floors, some walls and ceilings) and this was predominantly stained with a dark rich colour keeping with the tudor theme. The stained woodwork allows no margin for error and all work with this type of timber needs to be exact
Doors in the home weighed 160kg and are 45-55ml thick solid timber
New Staircase with skylight and chandelier – chandelier is motorized to change light globes, dust, etc.
A cantilevered infinity edge pool with stunning views over the Yarra, parklands and beyond to the City – below is a study /den with private access
If you are planning a large-scale renovation or new build project and would like to speak to Craig Easton for advice, please get in touch at craig@craigeaston.co